Find Your Flow: Water Features and Fountains
Now that summer is in full swing, we hope you've been spending more time in your outdoor living space. Perhaps you're enjoying an evening beverage on the patio, gatherings with friends around the fire pit, or lounging the day away on a sunroom chaise. Imagine how soothing these experiences would be with the peaceful sounds of a waterfall or fountain.
If you can hear the soft trickle of flowing water in your mind, why not make it come to life by adding a simple or inventive water feature to your outdoor living area? Here are some of our favorites to inspire you; a little sprinkle of ideas, to help flood your creativity and help you create the waterfall or fountain of your dreams.
Naturally flowing stream.
Relax around the firepit with the sounds of a nearby meandering stream. This flowing waterway makes the most of the natural landscape as it travels through the stones and surrounding greenery. It's calm, it's inviting, and it's your very own backyard retreat.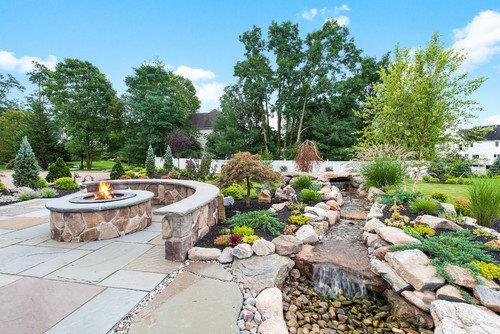 Backyard rockbed fountain.
This stone water fountain adds a tropical element to the traditional backyard landscape. It's simple and just right for the space. Can you hear the bubbling of the water as it flows over the rocks? This fountain also proves that you don't always need a pond at the bottom of the water feature, so if you're short on space, or just don't want to maintain a pond, this is a perfect solution.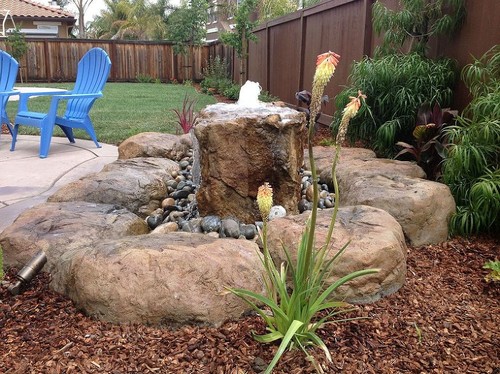 Calm, contemporary flow.
Sometimes the best way to add a water feature to your outdoor living space is to follow the natural flow of the landscape and incorporate it alongside the structure of your home. This fountain starts in the far stone wall, flows down to the next level, past the plants, and into the lower pool. Who wouldn't want to wake up to the sounds of the birds chirping and water splashing into the pond below? Visually, there's so much to take in with all the natural textures and a contemporary flair.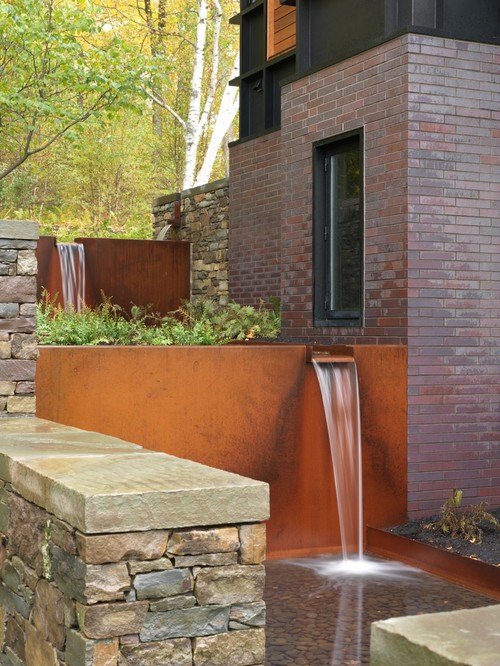 Step up your fountain game.
We love this contemporary, follow-your-footsteps fountain. It takes your average concrete staircase from functional to phenomenal, especially at night. Notice how lighting plays a key role in bringing this multilevel fountain to life. It's pretty during the day, and even more beautiful after dark.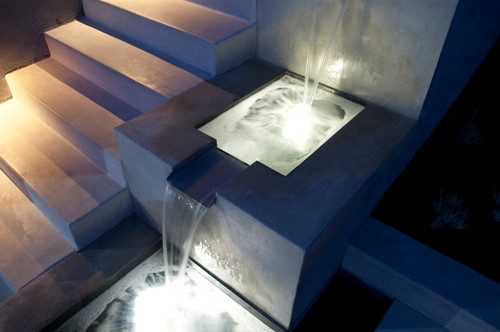 Classic and contemplative.
This classic display of a water feature looks as if you happened upon it during your early evening stroll through the woods. There's a romantic feel to the way it blends with the greenery that surrounds it on all sides. This is a wonderful place to sit and contemplate after a long day in a busy city, or after hours at your desk. Take a walk out back and just breathe.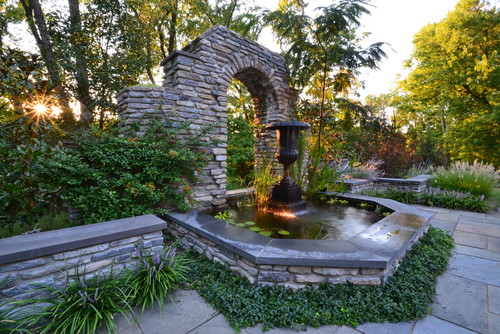 More Posts You May Find Interesting
Primera
With a goal of distinguishing themselves from "cookie-cutter" national chains, boutique hotels are characterized by their small size (typically fewer than 100 rooms), personalized service, and unique sense of style, which is often based on
Primera
As one of the largest and most heavily used surfaces in your home, kitchen and bathroom countertops must combine style and durability. Therefore, it's crucial to choose the best material to suit your needs—but with
Primera
At the beginning of a new year, interior designers, contractors, and other home design experts are busy predicting the trends that homeowners will favor in the coming months. As the functional and stylistic centerpiece