In keeping with the determination to stay organized beyond the first 90 days of a new year, we want to give some attention to a room that's often overlooked when it comes to function and design, but one that's vital to the home, nonetheless — The Laundry Room.
Think about it: A laundry room designed with intention makes doing laundry an easy chore. On the flip side, a laundry room that's too crowded to stand in while holding a laundry basket and attempting to open the dryer door just adds frustration to your life every time you head down the hall with a basket of dirty clothes.
Here are some ideas for organized, low-frustration laundry rooms to help home owners feel a little happier on laundry day.
Stack it up.
Photo by Designstorms LLC – Browse laundry room photos
Most laundry rooms, it seems, are an architectural afterthought. For a washroom the size of a linen closet, consider stacking your washer and dryer on top of each other to save space. Vertical shelves and even a small area to iron help make this converted closet-turned-laundry space into a highly organized and functional one.
Notice the added shelves on the wall for laundry supplies and a simple bar to hang shirts while they air-dry. Keeping the color palette neutral in silver, gray, and white, makes the room feel brighter and less little than it really is
Make the most out of minimal floor space.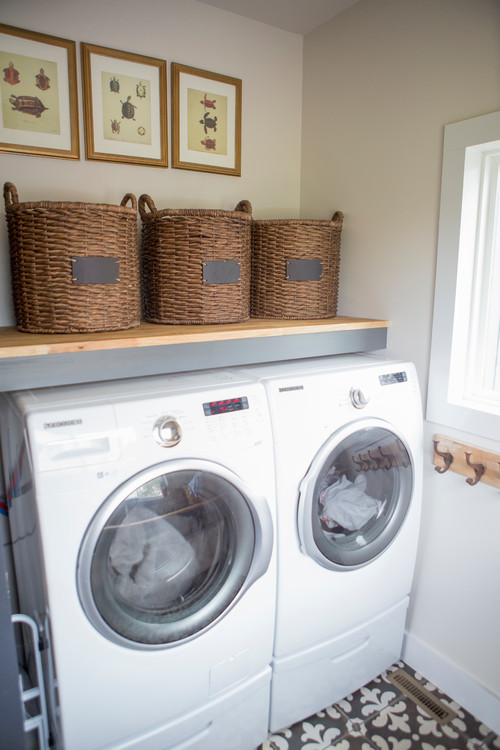 If you only have a single wall in a tight space to make it all fit, a shelf above the washer and dryer takes the struggle out of laundry baskets on the floor. The easily accessible shelf above the machines for laundry bushels ensures you'll have uncluttered space to stand in while you load and unload clothes. As an added bonus, label the baskets for each member of your family so you can sort and deliver clean items back to their rightful owners.
What laundry room?
Photo by Kitchen Design Concepts – Browse laundry room photos
When you need the space for other things, like a window seat and built-in desk area for after-school projects, but you also want a utilitarian laundry space, consider concealing your washer, dryer, and everything else, until you need it. This now-you-see-it-now-you-don't laundry room neatly and discreetly tucks away all the necessities behind attractive cabinetry.
Photo by Kitchen Design Concepts – Browse laundry room photos
But, when it's time to wash and fold clothes, this reading nook quickly converts into a practical laundry room with everything you need to fluff and fold, including a disappearing ironing board. What's more, guests will never notice a pile of clothes spilling onto the floor when they pop by unexpectedly.
Clean clothes, clean pup.
Dog-lovers can't resist a laundry room that doubles as a space to bathe a furry friend and give him a cozy space to retreat next to the soothing sounds of the washer and dryer. This laundry room packs a multipurpose punch combining stackable machines, cabinetry, a countertop, dog bed, and pet-friendly shower space. Note the neutral colors with a splash of warm gold for a homey feel. Even the most discerning canines approve.
More Posts You May Find Interesting
Primera
As a space for gathering, creating, and going about day-to-day necessities, the kitchen is arguably the most important room in your home. Therefore, whether you're building a brand-new kitchen or undertaking a major renovation, it's
Primera
As with all other businesses in the hospitality industry, the past few years have been tumultuous for restaurants. From expanding takeout and delivery options to implementing outdoor and socially distanced dining, the pandemic ushered in
Primera
A third of households in the United States are currently multi-family households, which makes this a great investment. Unfortunately, this has far more moving parts and things to figure out than the average housing