Preparing a home for sale is something of an art form. Do it right, and you'll likely have prospective buyers vying to pay top dollar for your home. Do it wrong, and most of those buyers won't even make it past the first few rooms.
Aside from the obvious turnoffs—unpleasant odors, dirt and grime, too much clutter, pet paraphernalia, and poor curb appeal—there are several things buyers definitely do not want to see when shopping for a new home.
Take a look at this list of top turn-offs for new home buyers. If you notice any of them in your home, it may be smart to make a few cosmetic changes before putting your home on the market.
Wall-to-wall carpeting
It's not the 1950s anymore, so be prepared to pull up that wall-to-wall carpeting if you really want to attract modern buyers. If there is hardwood beneath, you're in luck; hardwood floors are still a big draw. Our advice: remove the carpet and refurbish the natural hardwood beneath, or consider installing luxury vinyl tile or another type of resilient flooring.
Dimly lit rooms
Nobody wants to walk into a room and feel like they've walked into a dungeon. Home buyers love natural light, so be sure to open the blinds and let in as much outdoor light as possible. If a room doesn't get a lot of sunlight, consider adding additional lighting fixtures (with halogen bulbs to mimic natural light), repainting the walls and ceiling a lighter color, or using some of these
other tricks to make the room look brighter
.
Popcorn ceilings
It's not the 1970s either, so let's lose the popcorn ceilings. Though somewhat of a hassle to remove and refinish, it will be well worth it when home buyers look up and breathe a sigh of relief. Another option to consider:
covering your popcorn ceilings
with ceiling panels or planks.
Outdated fixtures and appliances
Nothing makes home buyers head for the door faster than appliances and fixtures that never left the last century. Replace those tacky, high-gloss brass fixtures (from lighting to faucets) with a more modern stainless steel, brushed nickel, or matte black finish. Also swap out those faux crystal faucet handles in the bathroom.
Crazy paint colors
You may love your chartreuse bedroom or plum-colored living room, but potential home buyers likely won't share your adoration for bold, bright hues. The same goes for wild wallpaper or decorative paint effects like stenciling and sponging. Also a turnoff?
Old-timey wood paneling
, like the kind your grandpa had in the den.
Cracked or damaged floors
If your hardwoods are warping or your tile is showing its age with multiple cracks and divots, you may want to consider repairing or
replacing your current flooring
. Home buyers want to see quality installation with no flaws or defects, especially around the door jambs and baseboards.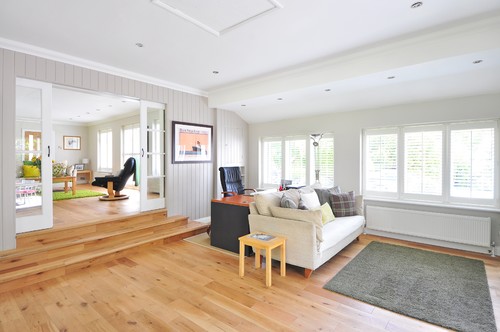 What else to do home buyers want to see in a potential new home?
More Posts You May Find Interesting
Primera
With a goal of distinguishing themselves from "cookie-cutter" national chains, boutique hotels are characterized by their small size (typically fewer than 100 rooms), personalized service, and unique sense of style, which is often based on
Primera
As one of the largest and most heavily used surfaces in your home, kitchen and bathroom countertops must combine style and durability. Therefore, it's crucial to choose the best material to suit your needs—but with
Primera
At the beginning of a new year, interior designers, contractors, and other home design experts are busy predicting the trends that homeowners will favor in the coming months. As the functional and stylistic centerpiece