As we enter yet another month of quarantine, you might be looking for new ways to pass the time. Maybe you had to postpone a vacation or big event. Or, perhaps you rearranged furniture several times, only to find that it feels exactly the same.
Sound familiar?
Consider starting a home improvement project. It's an excellent way to increase your home's value while staying busy and creative.
But of course, no home project is complete without some inspiration. To get you started, we compiled our favorite August design trends, below:
Find your Zen
During these uncertain times, a tranquil Zen space offers a much-needed break from reality.
Turn your attic, basement, or guest room into a soothing getaway by adding natural fibers and earth tones. Soften the sunlight with airy curtains and sprinkle plush cushions on the floor.
When you need a moment to de-stress, simply slip into your serene sanctuary.
Office space times two
With so many couples working from home, a designated shared office area might be the key to motivation. It's the best way to maximize space while making it easier for you (and your partner-turned-co-worker) to mentally enter work mode.
Depending on your space, you can install two workstations along a wall or use a large coworking table. Keep things organized with drawers, cabinets, and built-in shelves.
Stay cool in a blue kitchen
Blue has become the new "it" color of the kitchen scene. From beautiful cobalt to uplifting cerulean, blue hues offer a welcoming and inviting atmosphere. In fact, the color blue represents unity, openness, and imagination—which is perfect for a communal area like the kitchen.
Blue cabinets are extremely trendy right now, but you can also add a blue backsplash or kitchen appliance.
Stylish sink panels
If you want to make a statement without going all out, add a decorative sink panel. It's a simple yet unique fixture that will instantly refresh your kitchen or bathroom. This stunning floral panel, for example, adds a pop of color and artsy flair to an otherwise neutral kitchen.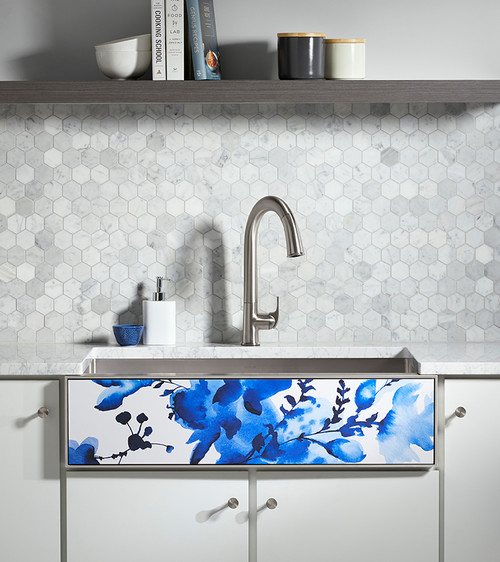 Go green in the gym
Homeowners are loving biophilic design and for a good reason. People who feel connected with nature experience increased mood and overall wellness.
This works particularly well in exercise rooms, especially as home workouts become the norm. Think living walls, natural light, and plenty of potted plants.
Sweat now, sip later
While you're at it, upgrade your home fitness center with a gym bar. We're loving this sleek and attractive setup, complete with wall storage for towels. The mini-fridge keeps water cool, while the countertop offers ample space for blending post-workout smoothies.
More Posts You May Find Interesting
Primera
With a goal of distinguishing themselves from "cookie-cutter" national chains, boutique hotels are characterized by their small size (typically fewer than 100 rooms), personalized service, and unique sense of style, which is often based on
Primera
As one of the largest and most heavily used surfaces in your home, kitchen and bathroom countertops must combine style and durability. Therefore, it's crucial to choose the best material to suit your needs—but with
Primera
At the beginning of a new year, interior designers, contractors, and other home design experts are busy predicting the trends that homeowners will favor in the coming months. As the functional and stylistic centerpiece