Depending on where you live in the country, the next few months might become a bit rainy and muddy as we leave summer behind and head into fall. If you have young children or teenagers, they're not going to remember to wipe their feet, take off dirty boots, or gently lay umbrellas out to dry every time it rains. And if you have a dog or two, you're really in for some professional dirt-tracking into your home this fall and beyond.
Fear not. We have a solution for every home – a mudroom. Maybe you've always wanted one, or maybe you need to make the one you have more versatile and functional. Either way, we've compiled some ideas to inspire you and your whole family to leave the mess behind on their way inside, before they set foot on your clean floors.
A small, highly functional space.
A mudroom doesn't necessarily have to be its own separate space. If you have an entryway that's not living up to its duties, add shelving, hooks, and a bench, and voila! – instant mudroom. This small but mighty space helps everyone in the house keep their coats, boots, hats, and umbrellas neat and tidy. The charcoal tiles hide the dirt and shiplap walls add minimalist style.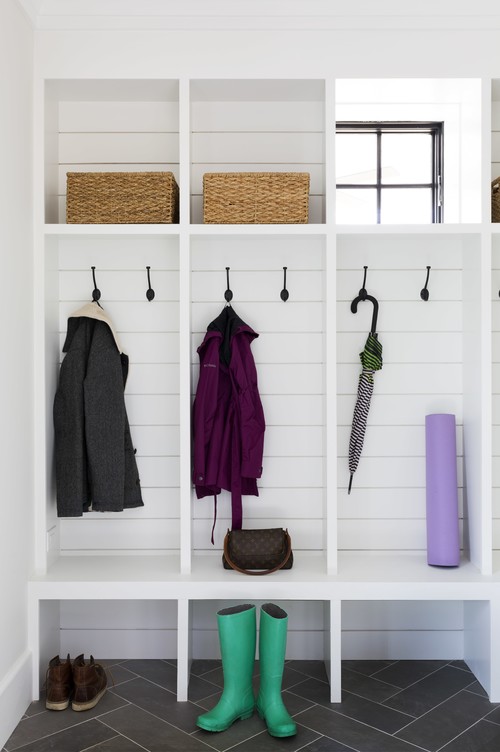 Spread out in an industrial sized mudroom.
Got a whole team of outdoor enthusiasts to manage? An oversized mudroom off the garage or near a lower level entry is the perfect place to store coats, hats, shoes, and equipment. Natural wood shelving with hooks and cubbies keeps items organized and makes it easy to grab-and-go when everyone is in a hurry. Conceal it all with a barn door, so when things get messy, it stays hidden from the rest of the living space.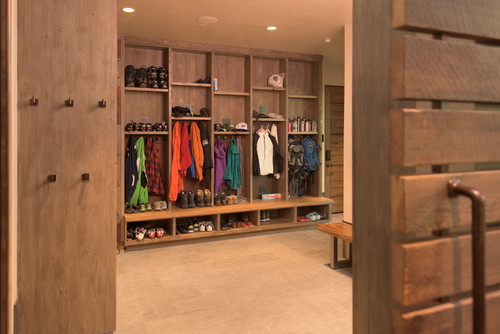 Mudroom hallway with loads of storage.
Even an entry hallway can do double duty as a mudroom and this one is all about making the most of available space. Floor-to-ceiling custom cabinetry adds loads of concealed storage and shoes fit neatly under the built-in bench. A tile floor is easy to clean and pendant lighting is functional and stylish. The whimsical birds on the walls are coming and going, just like the residents.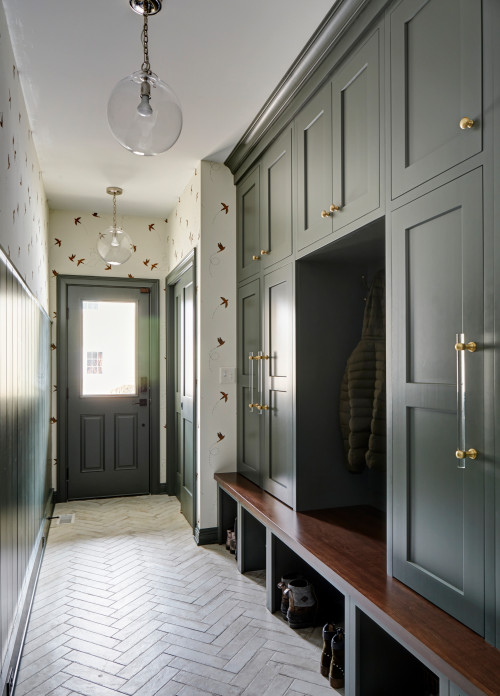 Brightly lit, welcoming mudroom.
As the first impression of your home, simply based on proximity, a stylish, welcoming mudroom is in order. This lovely, rustic farmhouse entry room is filled with natural light from the windows and doors. The view to the outdoors as you hang your coat and kick off your shoes is calming, and it makes the space feel bigger than it is. Warm white walls with natural wood and brass fixtures are the perfect complement.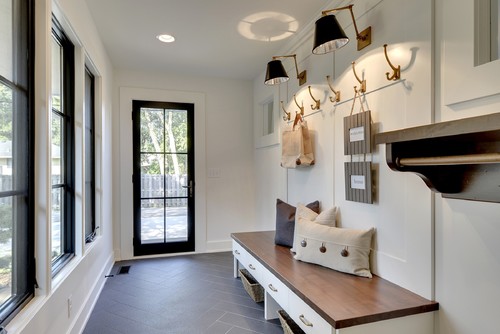 Is it a mudroom, a workspace, or both?
This jumbo mudroom/storage/workspace wins the award for most versatility. Kids can come home from school and hang coats and backpacks, then sit down at the counter to start their homework. Unload the groceries here and store everything in these beautiful custom cabinets and drawers. Love to craft? You can do that in a space like this, too. Even the family dog will enjoy time lounging on the window seat or under the counter. The oversized pendant chandelier adds personal flair and directional lighting to this airy space.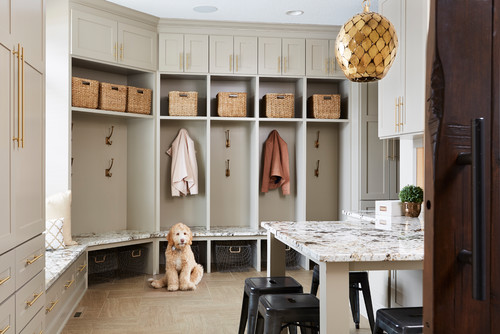 More Posts You May Find Interesting
Primera
With a goal of distinguishing themselves from "cookie-cutter" national chains, boutique hotels are characterized by their small size (typically fewer than 100 rooms), personalized service, and unique sense of style, which is often based on
Primera
As one of the largest and most heavily used surfaces in your home, kitchen and bathroom countertops must combine style and durability. Therefore, it's crucial to choose the best material to suit your needs—but with
Primera
At the beginning of a new year, interior designers, contractors, and other home design experts are busy predicting the trends that homeowners will favor in the coming months. As the functional and stylistic centerpiece