The front door is your home's first impression. Adding holiday decorations can certainly make a plain entryway more inviting, but the door should also stand alone. What does your door say about your home during the holidays and, most importantly, every other day of the year? 
Our design experts created a list of some of their favorite on trend doors and decorations to transition your entrance through the holidays and beyond. 
Make a simple, bold statement
The key to this front door (pun intended) is the simplicity of the decorations. When you already have a big, bold front door that makes a statement all by itself, it just takes a few thoughtful items to dress it up during the holidays. In this case, white lights, evergreen garland, and red bows create a festive winter look. The large planters on either side of the door allow you to easily swap out their contents with minimal effort for different occasions.
Traditional, understated, and charming
This beautiful, traditional front entrance is exactly what you want if you're looking to let light into your home every day of the year. Dressing up the door frame with flowing greenery and a wreath of oranges and green apples adds to the homey, farmhouse feel. Choosing natural colors and elements means this type of door décor easily welcomes guests all year long.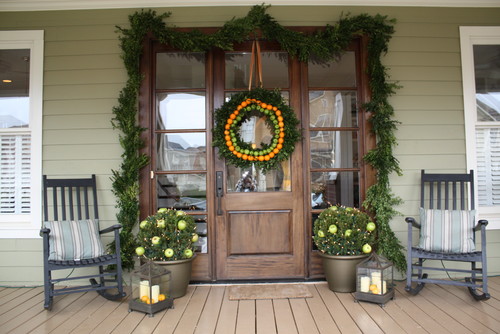 Perfectly proportioned and inviting
A red and gray painted color scheme is the perfect backdrop for red and silver holiday decorations. The size of the wreath, planters, and the hanging ornaments are the perfect proportions for an inviting look on this little front porch. A dusting of snow on the garland and steps adds to the charm. Can you hear the snow crunching underfoot as you wait in anticipation for friends to answer the door?
Fresh, white, timeless entryway
We love everything about this bright white and wood entry. The natural wood complements the crisp, white siding and clean lines of the oversized frosted glass door. A simple, silver, shiny bulb wreath ties in the brushed nickel house numbers and light fixture. We imagine the interior of this home is just as bright, spacious, and uncluttered as the doorway.
True blue and beautiful
First, this front door is the most beautiful shade of cobalt blue! Next, the unique shape of the door and its frame are reminiscent of a decorative, old church entryway, giving it tons of charm. Finally, the white siding and trim provide an elegant backdrop so this cheerful front door takes center stage. Long, drooping garland and a big, fir and pine cone wreath dress it up for the holidays. Put on some tall boots and make your way through all that fluffy snow.
More Posts You May Find Interesting
Primera
With a goal of distinguishing themselves from "cookie-cutter" national chains, boutique hotels are characterized by their small size (typically fewer than 100 rooms), personalized service, and unique sense of style, which is often based on
Primera
As one of the largest and most heavily used surfaces in your home, kitchen and bathroom countertops must combine style and durability. Therefore, it's crucial to choose the best material to suit your needs—but with
Primera
At the beginning of a new year, interior designers, contractors, and other home design experts are busy predicting the trends that homeowners will favor in the coming months. As the functional and stylistic centerpiece