Mirrors, like framed artwork, can add interest to any space. And when you incorporate them into your décor in unexpected ways, they can expand the room, add light, and reflect your unique style. We mean that in every sense of the word, of course. 
For design inspiration, here are some of our favorite ways to incorporate mirrors into your home in subtle, and not-so-subtle ways. 
Use a mirror to make a dramatic statement
Typically, when you have a wide-open wall in your dining room, you might consider adding a decorative buffet or hanging a couple paintings over a banquette. But, leaning a floor-to-ceiling framed mirror on that empty wall is another option – one that adds an element of surprise to the room. It also expands the space, and in this case, accentuates the openness of the floorplan.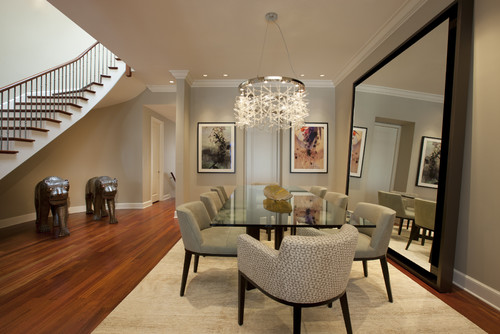 Hang mirrors to reflect a beautiful view
The mirrors in this inviting family room hang like a polyptych painting; side-by-side to create a unified appearance. They also strategically reflect the opposing wall's windows to show the outside scenery. So, no matter where you're seated in this relaxing space, you have a view of the fireplace as well as the natural landscape. The four long mirrors also make the room appear larger, while still creating a cozy gathering place.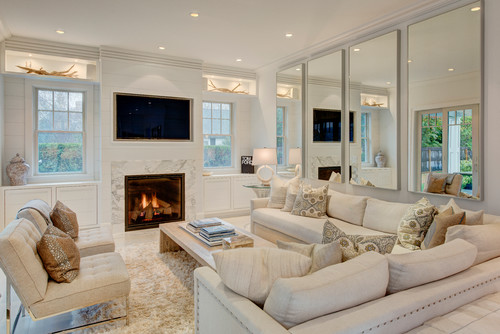 Use mirrors as an intriguing way to add interest to a space
Would you ever think of hanging a collection of mirrors as an artistic display over a side table? This assortment of different-sized round mirrors is so simple, yet such an unexpected design choice. 
Whether in a hallway or on the wall in a living room or bedroom, this elegant display is simple, understated, and beautiful. These "floating" circular shapes are the perfect complement to the sturdy rectangular table below. And it sets a tone that the rest of the home must be just as crisp and uncluttered.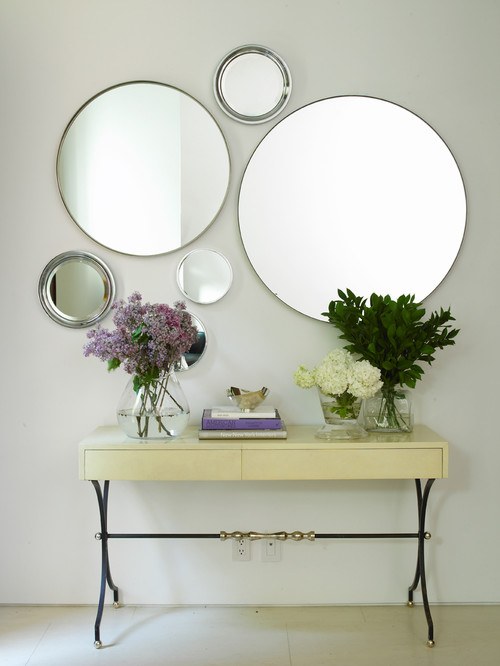 Create function in its finest form
It's certainly not surprising to hang a mirror over a vanity in your bathroom, but it's most definitely remarkable when the mirror is as beautiful as this one! As if the bathroom itself isn't elegant enough with the wall treatment and lovely vanity, this gorgeous mirror is the piece de resistance. Backlit with rock crystals, it's a stunning and highly functional display of an obviously placed object.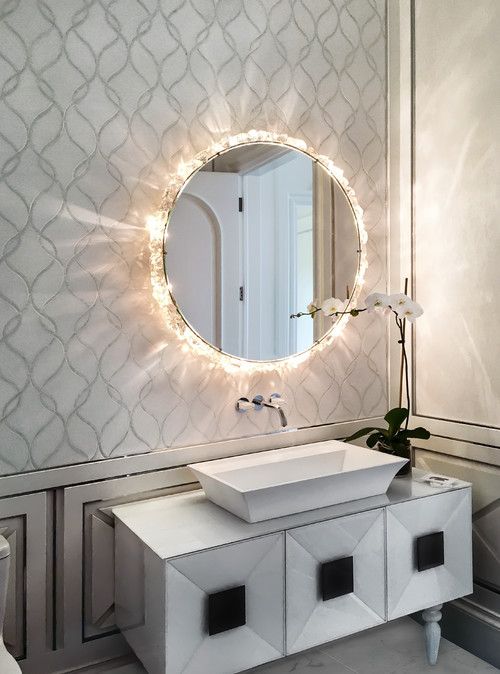 Add mirrors for a fresh take on tiles
Instead of a single mirror as a backsplash for this welcoming home bar, this space shows off mirrored subway tiles – a fresh take on a recent favorite. The tiles reflect the pendant lights, illuminating the area and setting the tone for lively conversation. Even though this is a bright space, it still feels intimate and very classic. Cheers to small mirrors that make a big impact!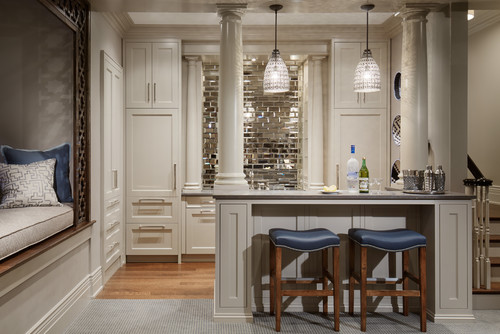 More Posts You May Find Interesting
Primera
With a goal of distinguishing themselves from "cookie-cutter" national chains, boutique hotels are characterized by their small size (typically fewer than 100 rooms), personalized service, and unique sense of style, which is often based on
Primera
As one of the largest and most heavily used surfaces in your home, kitchen and bathroom countertops must combine style and durability. Therefore, it's crucial to choose the best material to suit your needs—but with
Primera
At the beginning of a new year, interior designers, contractors, and other home design experts are busy predicting the trends that homeowners will favor in the coming months. As the functional and stylistic centerpiece