It's that time of year again when trees and flowers are in full bloom and you want to spend more time outdoors. If you've been focusing on remodeling your interior rooms over the past year, it's time to take that design itch outside. Rejuvenate your sunroom. Revamp your porch. Perk up your patio.
To inspire you, we've put together some of our favorite reimagined sunrooms. Apply your favorite ideas to your home, and soon one of your most-lived in rooms might not actually be inside.
Sandy, subtle, and bright.
Even if you're not near the beach, you can bring the ever-so-subtle beach vibe to your sunroom. This space reminds us of the sand and peaceful seaside, without being an over-the-top seashell theme. The monochromatic color scheme feels soothing, bright, and airy – just like a day at the beach. With windows on three walls, an abundance of natural light fills the space.
The simple, decorative overhead light hangs like stars in the night sky that cast soft light for relaxing in the evenings. The casual couch and side chairs are the perfect arrangement for conversations or an early morning cup of coffee.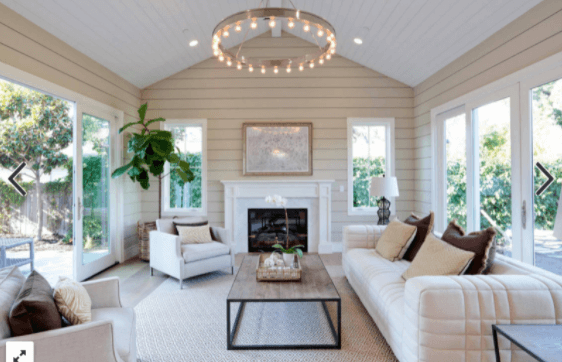 A colorful approach.
This sunroom illustrates a great way to incorporate a favorite collection into your décor. In this case, it's lanterns in different shades of red. Carrying the colors throughout the upholstery is an elegant, beautiful way to create harmony and balance. The patterns are muted, the floor is natural wood, and the window seat and walls are soft white – the perfect backdrop for all the warm reds. This is a wonderful balance between natural colors and textures and personal expression. It may not be the biggest room in the house, but we're sure it's a favorite.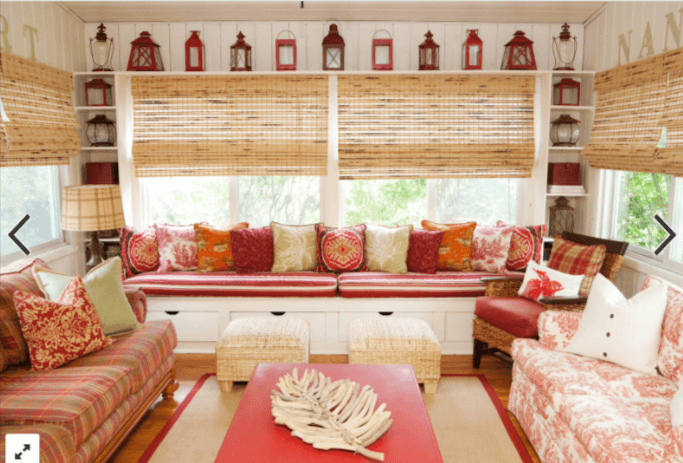 Farmhouse sunroom retreat.
The reason kids like to swing is because the gentle rocking motion is calming. So, who says you have to be a kid to enjoy a swing? Calm your senses after a long day at work on your very own oversized porch swing. Surrounded by windows, you'll feel like you're outside with greenery all around. The mixed boards of the floor make you want to kick off your shoes and feel the wood beneath your feet. They also add an interesting pattern, color, and texture to the space. Grab a good book and spend a lazy afternoon gently swinging in the sun.
Make the most of a modern patio.
Do you want to bring the indoors out, or the outdoors in? This patio-turned-sunroom does it all. This simple, elegant design composition makes the most of the small space. Two comfy chairs, plenty of greenery, and floor-to-ceiling glass. It's outside of the house, but yet, it's just a step away from the indoor living area. Sitting here, feeling the breeze with nothing obstructing your view of the yard is a lovely way to spend an afternoon.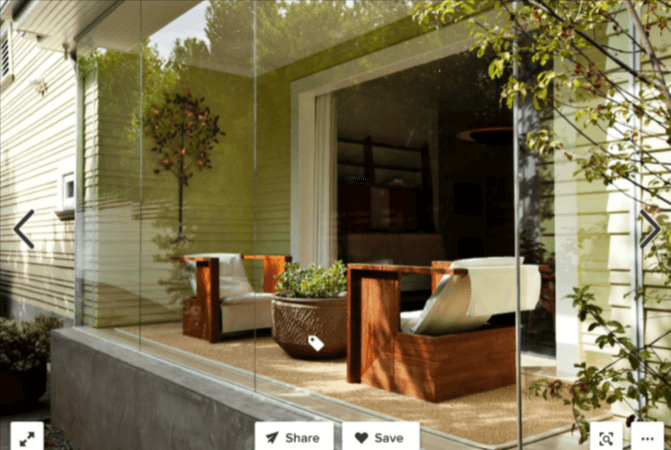 Sunlight in every direction.
With this unique, octagonal extension on your home, you can surround yourself with daylight – and skylight. It almost looks as if this room is hanging amidst the trees. Sunlight and greenery stream in from all angles, and the only other color amidst neutral gray and brown tones – that mimic shades of tree bark – are the throw pillows. These color choices let you focus on the natural surroundings without being distracting. The beautiful Japanese chandelier is a focal point in this lovely space.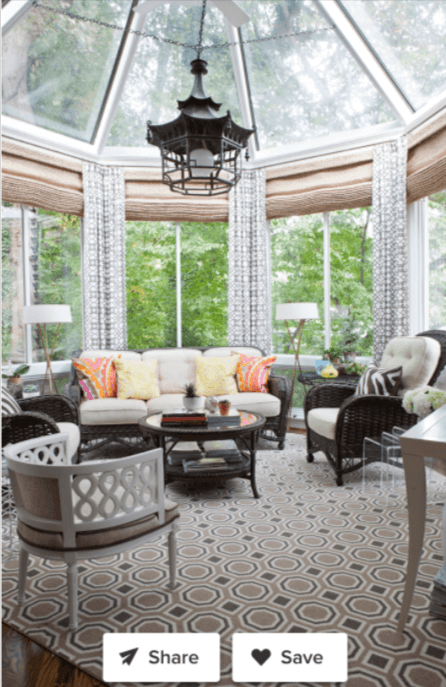 More Posts You May Find Interesting
Primera
With a goal of distinguishing themselves from "cookie-cutter" national chains, boutique hotels are characterized by their small size (typically fewer than 100 rooms), personalized service, and unique sense of style, which is often based on
Primera
As one of the largest and most heavily used surfaces in your home, kitchen and bathroom countertops must combine style and durability. Therefore, it's crucial to choose the best material to suit your needs—but with
Primera
At the beginning of a new year, interior designers, contractors, and other home design experts are busy predicting the trends that homeowners will favor in the coming months. As the functional and stylistic centerpiece