Kitchen remodeling projects remain high on the list of home upgrades, but the 2020 trends are changing slightly from past years' popular styles. Farmhouse kitchens had their big moment in the interior design spotlight and are slowly waning in preference.
Instead, transitional-style kitchens — ones that seamlessly blend contemporary and traditional elements — top the list of kitchen remodeling trends for the third year in a row.
So, here are some of our favorite transitional-style kitchens to inspire your kitchen remodeling project. And remember, personalizing your space in a way that embraces your family's tastes and lifestyle is always a winning combination.
Open-concept creates a gathering space for all
While white shaker cabinets remain the most popular cabinet remodel choice, grey is a close second.
This transitional, open-concept kitchen is warm and inviting, but still exudes a clean, simple design. Plenty of counter space and room to dine casually at the island or around the table by the window keeps everyone together in the same room.
Grey tones in the natural wood floor, the backsplash, and drapes tie the elements together for a simple, yet elegant style.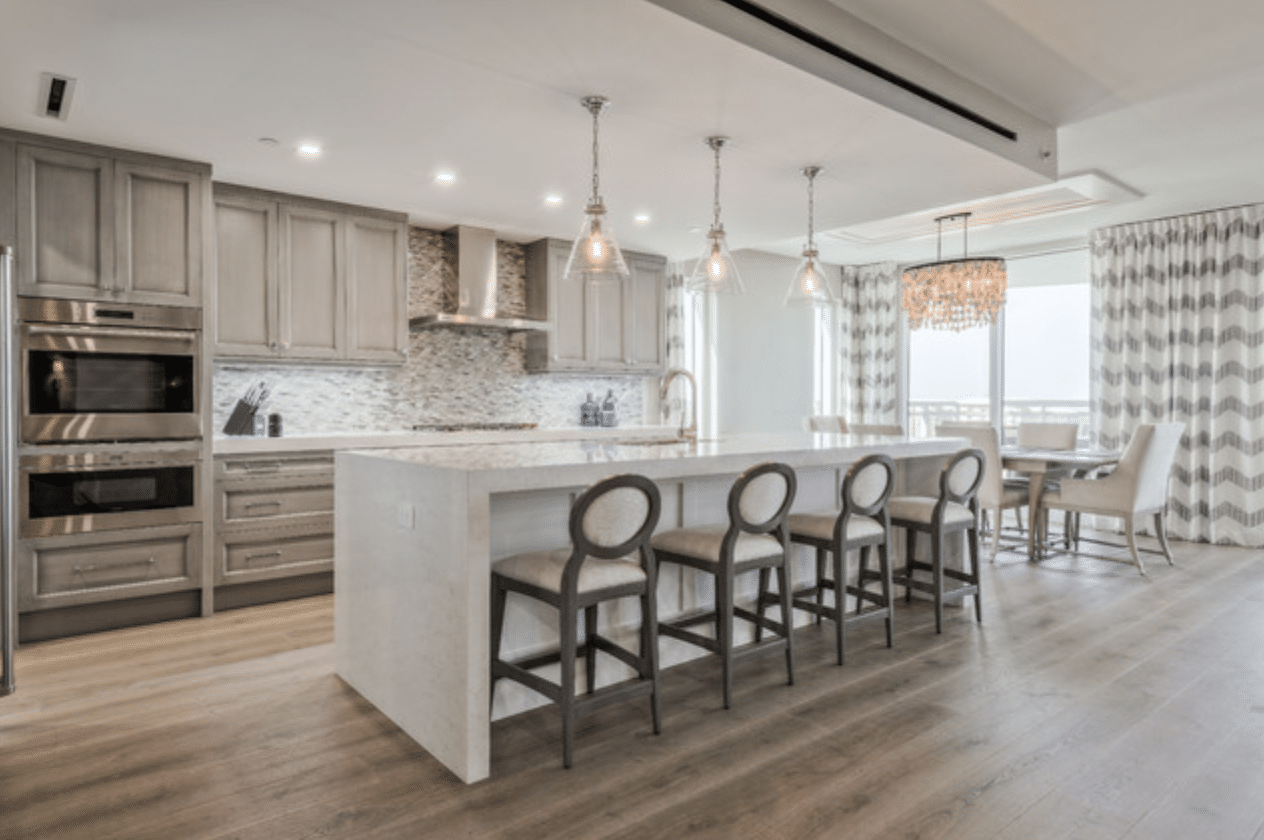 Transitional with a modern twist
This transitional kitchen has a flare for a modern style as it combines traditional, white shaker cabinets with chrome-based barstools and a heavy-duty range hood.
Everything in this kitchen is clean and simple, dark and light. The high-contrast black island countertop adds warmth to the space and offsets its white surroundings. Grey as the accent color and brushed nickel fixtures unite this simple design.
Bold accent colors make an original statement
For those who like a bit more color in the kitchen, incorporate a bold accent piece into your space with custom appliances.
This well-planned design carries the orange oven color throughout with floral fabric on the chairs. The lovely white kitchen welcomes in natural light with large windows and skylights. And, the floral window design gives the space a light, airy garden ambiance so you feel like you're outside, surrounded by nature.
When two islands are better than one
An oversized island is essential for today's busy kitchen, and if you've got the space for two islands, we say go for it.
Why would you want two islands?
One for preparing food, complete with a mini sink, and another for gathering 'round. Everyone likes to congregate in the kitchen anyway, so why not give family and friends their own space to enjoy hors d'oeuvres and socialize while you prepare the main course?
The round table in the far corner adds a pop of color with fuchsia chairs and even more space for guests to linger.
Incorporate an accent color into the cabinetry
If a wall of all-white cabinets is too much white for your taste, it's easy to incorporate an accent color of your choice — because, after all, everything goes with white.
This kitchen design is a perfect blend of white cabinets and navy blue accents that give your eye different focal points within the space. The inset glass cabinet panels are beautifully framed in navy and the island itself makes a bold accent piece that unites the blues and whites together.
Gold fixtures and cabinet pulls add more warmth. Add the natural wood floor and you've got a cozy, transitional kitchen at the heart of your home.
More Posts You May Find Interesting
Primera
IntroductionIn the dynamic world of interior design, two contrasting philosophies stand out: minimalism and maximalism. Both have fervent admirers and offer distinct ways of expressing personal style through living spaces. For clients walking into an
Primera
With a goal of distinguishing themselves from "cookie-cutter" national chains, boutique hotels are characterized by their small size (typically fewer than 100 rooms), personalized service, and unique sense of style, which is often based on
Primera
As one of the largest and most heavily used surfaces in your home, kitchen and bathroom countertops must combine style and durability. Therefore, it's crucial to choose the best material to suit your needs—but with