One of the numerous reasons people go on vacation is to experience something new and different — a break from their average routine. And for many, their hotel stay is part of that departure from the usual.
Hotel guests want to experience something more lavish, perhaps, than their own living space, so they can feel pampered while they're out of town. That's why, as a commercial designer, your choice of bathroom décor is just as important as the rest of the environment, right down to the floor tile.
The Primera design team shares ideas for creating a unique hotel experience, for even the most discerning guests, with hotel bathroom inspiration for your next commercial project.
Take a Minimalist Approach to Create a Relaxing Environment
Sometimes less is more when it comes to a beautiful, serene experience. Minimalist bathroom designs create a spa-like atmosphere for weary travelers who want to relax and unwind after a long day of sightseeing. The minimalist approach works well for business guests, too, who need a calm space in which to rest and recharge after a long day meeting clients or conducting seminars.
Natural stone tile from floor to ceiling provides flawless, uncluttered continuity. Complement the muted colors with soft lighting and a simple white tub and sink. Understated waterfall faucets also contribute to the tranquil energy of the space.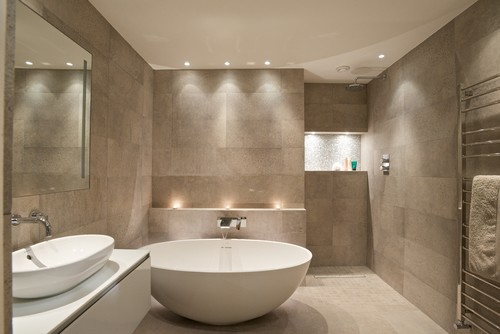 Geometric Tile Patterns Add a Modern Flair
Designing for a hotel on the trendy side of town? Geometric tile patterns make the space feel chic and upscale. Combine neutral colors and materials with splashes of color arranged in a unique geometric design. The wave shape of the wall that's mirrored just above on the shower ceiling adds an unexpected touch of whimsy, too.
This sleek mixture of ceramic tile and glass blocks give the shower an open, airy feel with a modern edge, perfect for helping guests feel like they're anywhere but in a typical hotel bathroom.
Elements of Nature are Always in Style
Natural elements and materials — from the tile to the colors to the artwork — never go out of style. An earthy color palette and artwork alludes to an outdoor environment and enhances creativity and conscious thoughts. You can even add living greenery into natural hotel bathroom designs to add subtle color, and to provide the many health benefits of cleaner air.
The floating vanities are another popular design trend for both commercial and residential clients that make the space feel clean, organized, and airy.
Design a Shower with a "Wow!" Factor
Luxury hotel properties call for unique design elements like showers with a "Wow!" factor. This inviting, contemporary shower space combines marble walls and ceiling with a mosaic tile on the floor. The bold, elegant colors of the marble provide a strong, solid space for dramatic lighting and a rainfall showerhead. What hotel guest wouldn't love to step into an incredible space like this after a long flight?
Embrace Geometric Patterns
Bold, geometric tiles on the floors, walls, or ceiling could be the perfect choice for a boutique hotel bathroom. Guests choose boutique hotels because of the less commercial qualities than the typical high-rise property. Consider this concept when designing a bathroom that complements a more refined experience.
This space uses color for continuity, from the floor to the drapery, with the boldest statement in the floor pattern and a neutral wall color so as not to compete for your attention. Instead, guests will find a bathroom like this to be the perfect combination of contemporary meets traditional — an ambiance that many boutique properties convey.
Need More Inspiration?
The Primera Commercial Design Team can help you select the trendiest or most classic style bathroom tiles, marble countertops, cabinets, and vanities – everything you need to inspire your next custom hotel bathroom project. From the practical to the unexpected, both small and large commercial design clients, Primera helps you stay on time from concept to installation.
Give us a call or schedule an appointment to get started with your latest commercial design.
More Posts You May Find Interesting
Primera
As a space for gathering, creating, and going about day-to-day necessities, the kitchen is arguably the most important room in your home. Therefore, whether you're building a brand-new kitchen or undertaking a major renovation, it's
Primera
As with all other businesses in the hospitality industry, the past few years have been tumultuous for restaurants. From expanding takeout and delivery options to implementing outdoor and socially distanced dining, the pandemic ushered in
Primera
A third of households in the United States are currently multi-family households, which makes this a great investment. Unfortunately, this has far more moving parts and things to figure out than the average housing