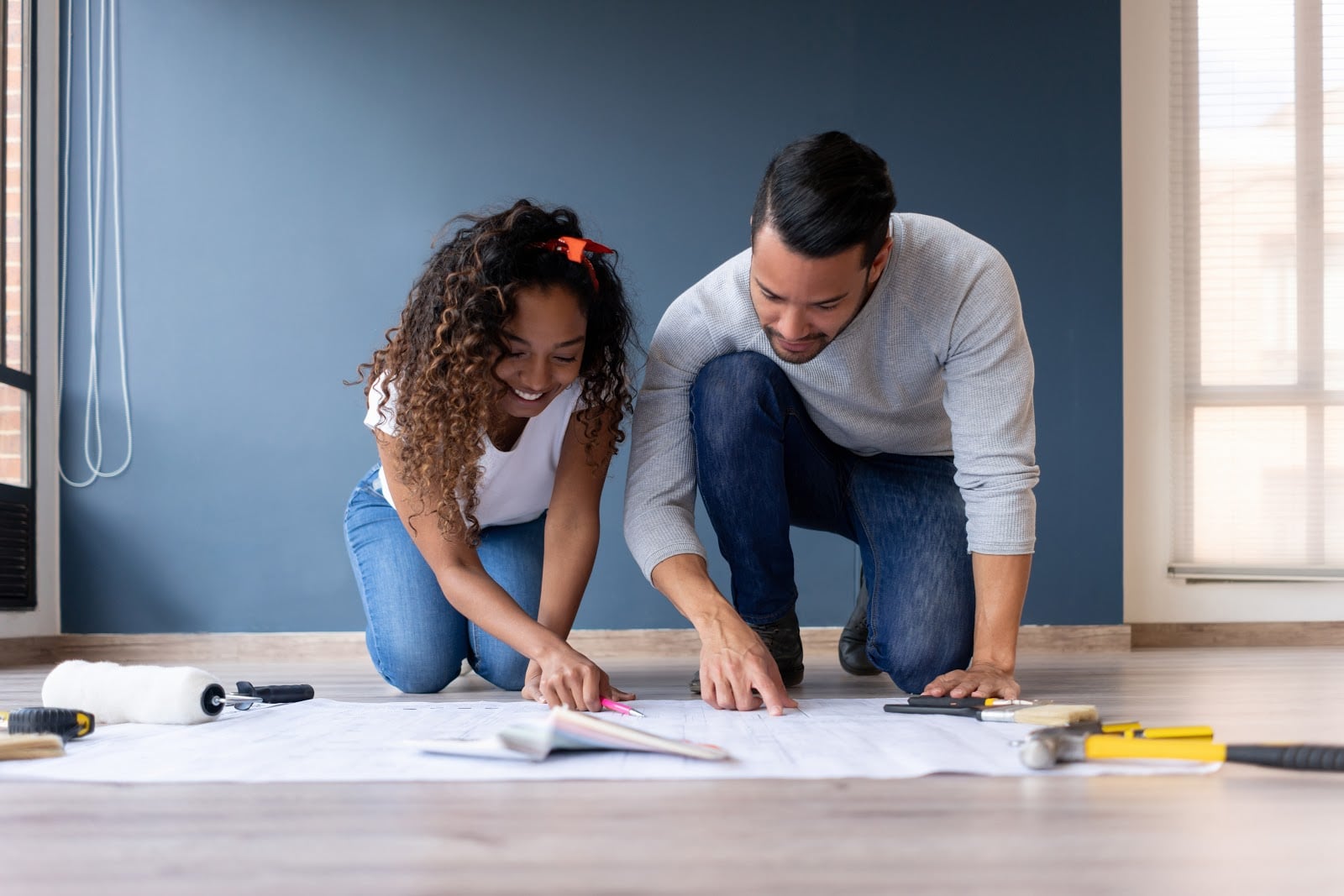 With social distancing mandates keeping much of the country at home, now is the perfect time to revisit those half-completed home improvement projects or tackle a new project that's been on your to-do list for a while.
Even small upgrades and renovations can increase the value of your home, and immersing yourself in a new project is a great way to relieve stress and tension. If you've been feeling a little cooped up lately and worried you might go stir crazy, here are a few popular ideas for beginner-, intermediate-, and professional-level projects to get your creative juices flowing.
Try a fresh coat of paint.
Have your walls been looking a little dingy? Is your front door the same dull color it's been since you moved in? A fresh coat of paint—or even a bold new shade—can do wonders for the look and feel of your home, plus it's a simple project that anyone can do. Once you choose your paint, all you need are some brushes and rollers, painter's tape, and drop cloths (or old sheets) to get the job done.
Give the carpets a deep cleaning.
When was the last time you brought out the carpet cleaner and gave your carpets a little TLC? You'll be amazed by the difference it makes when you walk into a room. If you don't have one at home, you can easily rent a carpet cleaner from your nearby home improvement store.
Upgrade your kitchen.
Did you know kitchen remodeling is one of the most popular home renovation projects for American homeowners? The good news here is that you don't have to do everything at once.
Adding a backsplash is a great DIY project and a simple way to breathe new life into your kitchen, plus it can be done in just a few hours. From natural slate to subway tile and pressed metal to cool glass, you can find plenty of ideas here for the perfect backsplash.
Other ideas include swapping out your old faucet, adding a kitchen island, replacing your cabinets, and upgrading your countertops. The best part about kitchen renovations is the range of projects you can tackle, which means you'll definitely be able to find something within your budget and skill level.
Consider a bathroom makeover.
Another popular place for home improvement projects? The bathroom. For DIYers especially, this is a great room to dip your toe in the water, so to speak.
For example, if you've been wanting to test your skills on a tile project, why not start in the shower or lay down new floor tile? Since bathrooms are usually the smallest rooms in the house, you can often get a gorgeous new look without breaking the bank.
Looking for a challenge? Take it to the next level.
For the DIY pros, more time around the house means you can finally get started on those bigger projects on your list. Since you'll be staying put for a while, why not get the jump on finishing the basement or adding that extra room?
Looking for more design inspiration? Primera has you covered.
After partnering with the best home builders and commercial developers across five western states, we know a thing or two about creating a home that wows.
More Posts You May Find Interesting
Primera
At the beginning of a new year, interior designers, contractors, and other home design experts are busy predicting the trends that homeowners will favor in the coming months. As the functional and stylistic centerpiece
Primera
As a home builder or interior designer, your goal is to create beautiful living spaces that your clients will enjoy for years to come. However, the process of choosing key interior products such as kitchen
Primera
As a space for gathering, creating, and going about day-to-day necessities, the kitchen is arguably the most important room in your home. Therefore, whether you're building a brand-new kitchen or undertaking a major renovation, it's