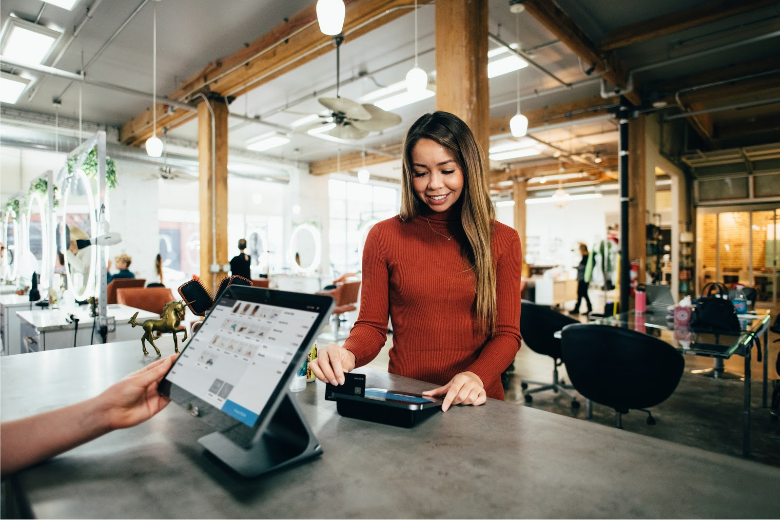 When it comes to commercial countertops, durability is key. Commercial surfaces, after all, naturally experience a great deal of wear and tear over time.
However, choosing a durable countertop surface doesn't mean you need to sacrifice style. It's just as important to pick a countertop that highlights the establishment's unique mission and brand.
To get you started, we've outlined our favorite commercial countertop inspiration ideas below:
Laminate
As commercial establishments intensify their sanitation practices due to COVID-19, non-porous surfaces have become increasingly favorable. One popular option is laminate, which is easy to clean and budget friendly. Plus, thanks to modern printing technology, laminate is available in a range of prints, colors, and textures. This includes laminate surfaces that mimic natural materials like wood and stone.
Glass
Not only is glass non-porous and durable, but it's beautiful too. It can even be layered on top of other materials—like copper or LED lights—to produce an aesthetically pleasing visual. Glass countertops are exceptionally breathtaking in hotel lobbies, bars, and upscale restaurants.
Stainless Steel
Often used in restaurants and commercial kitchens, stainless steel is extremely sturdy and long-lasting. It's also heat-tolerant and stain-resistant, making it perfect for high-traffic areas. Choose from various finishes, including hammered, brushed, antique matte, or satin. Try pairing it with rustic wood elements for a stunning industrial-inspired look.
Granite
For high-end projects with bigger budgets, granite is an excellent option. Its natural beauty, coupled with the uniqueness of every slab, makes it perfect for luxurious spaces. Granite is also resistant to heat and stains. However, granite is porous, so it needs to be resealed each year in order to maintain these features. Consider using it in spaces that are meant to deliver breathtaking first impressions, such as hotel lobbies.
Quartz
Quartz is an ideal granite alternative. Unlike granite, quartz is non-porous and doesn't require resealing. It's also more affordable and, since it's man-made, it can be produced in a variety of colors and patterns. Quartz also works well in upscale projects.
Design Your Commercial Countertops with Primera Today
For more commercial countertop inspiration, we invite you to visit our renowned design center. Whether you're building a healthcare facility or renovating a restaurant, our commercial division can help find the best countertop surface for your project. We also provide additional interior products such as flooring, carpet, and cabinetry.
Let's bring your ideas to life. To learn more about our commercial division, contact Primera today.
More Posts You May Find Interesting
Primera
IntroductionIn the dynamic world of interior design, two contrasting philosophies stand out: minimalism and maximalism. Both have fervent admirers and offer distinct ways of expressing personal style through living spaces. For clients walking into an
Primera
With a goal of distinguishing themselves from "cookie-cutter" national chains, boutique hotels are characterized by their small size (typically fewer than 100 rooms), personalized service, and unique sense of style, which is often based on
Primera
As one of the largest and most heavily used surfaces in your home, kitchen and bathroom countertops must combine style and durability. Therefore, it's crucial to choose the best material to suit your needs—but with