It goes without saying that 2020 has been an eventful year for the food industry. From outdoor seating to contactless pickup, the COVID-19 pandemic has forced restaurants to modify their business models. In doing so, restaurant interiors have significantly changed to accommodate our "new normal."
As a commercial contractor, it's crucial to know these 2020 restaurant designs, including those unrelated to the pandemic (think: color palettes and style themes). This way, you'll know what to expect from clients and restaurant owners in the new year.
Non-porous surfaces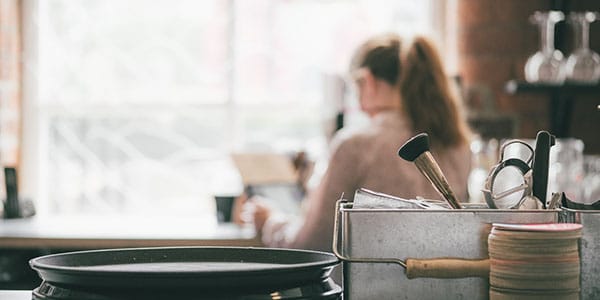 Due to the pandemic, restaurants have intensified their cleaning practices to protect employees and guests alike. This includes swapping porous surfaces, like wood and granite, for non-porous materials that can withstand constant cleaning. Surfaces like laminate and stainless steel have become the top picks for countertops, flooring, and more.
Wood elements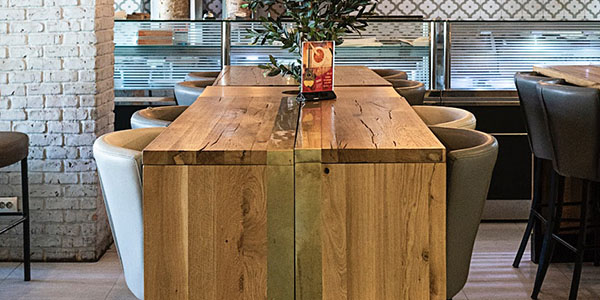 In terms of style, natural features like wood became incredibly popular in 2020. This speaks to consumers' growing appreciation for the great outdoors. Specifically, wood laminate can accommodate this trend as restaurants shift to more non-porous surfaces.
Warm color palettes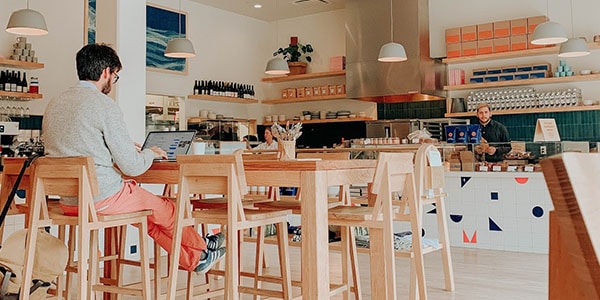 The year 2020 saw a rise in warm color palettes featuring shades like tan, orange, and yellow. These warmer tones—which have appeared in flooring, wall finishes, and seating—create a cozy atmosphere that so many of today's consumers crave.
Think (light) pink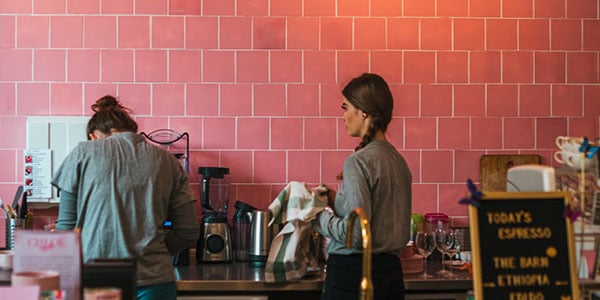 Light pink has become a popular color in recent years, and the trend continued in 2020. In restaurants, we saw light pink walls, seating, and even pink lighting. What's more, this design element can be easily incorporated into warm color palettes.
Dramatic light fixtures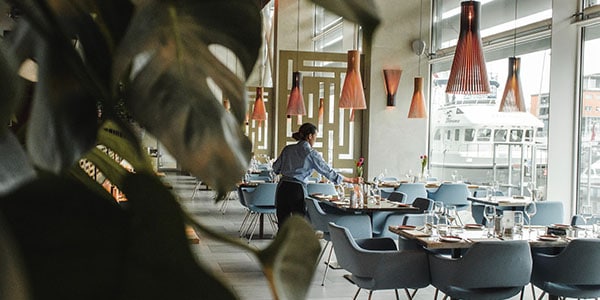 As the sparse, simple look of minimalism falls out of favor, restaurants have leaned toward maximalist elements. Most notably, eye-catching lighting fixtures became popular in 2020. These elements combine functionality and style while adding personality to an establishment.
Widening bar tops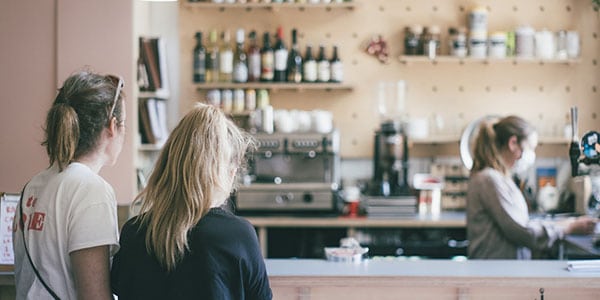 To promote social distancing between bartenders and patrons, restaurants have been extending bar tops by adding more material. Again, non-porous surfaces such as laminate are the most ideal for this purpose.
Work with the design experts at Primera.
At Primera, we understand that design and materials are key to a restaurant's success. That's why we're proud to offer design and installation services for commercial contractors through our commercial division.
Our experienced team can provide infinite interior possibilities, and ultimately, help your vision come to life.
To learn more about our commercial services, contact Primera today.
More Posts You May Find Interesting
Primera
With a goal of distinguishing themselves from "cookie-cutter" national chains, boutique hotels are characterized by their small size (typically fewer than 100 rooms), personalized service, and unique sense of style, which is often based on
Primera
As one of the largest and most heavily used surfaces in your home, kitchen and bathroom countertops must combine style and durability. Therefore, it's crucial to choose the best material to suit your needs—but with
Primera
At the beginning of a new year, interior designers, contractors, and other home design experts are busy predicting the trends that homeowners will favor in the coming months. As the functional and stylistic centerpiece